Slide 1
An Extensive, Diverse Garden
Slide 3
Supporting Local Food Banks
Sustainable

Measured use of resources, using locally propagated plants to produce food for the community.
Organic

Using all natural ingredients, pest control methods and non-GMO seeds.
Community

A volunteer run garden, sharing and helping each other and the local food banks.
Education

A great place to learn about gardening from local experts and other garden members.
Christmas Cookie Sale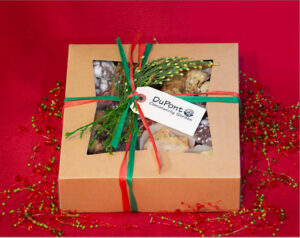 Order starting Nov. 27 for a two pound box of delicious homemade Christmas cookies (mixed variety). Limited supply available! We are taking orders until Dec. 11th or when sold out. Your order of $30 per box (cash or credit card) supports our mission to provide fresh produce to the Lakewood and Thurston County food banks.
Email your order to: sales@dupontcommunitygarden.org. Leave your name, phone number, email address and number of boxes desired. Pick-up at the DCG garden located on Power Line Rd. off Center Dr. on Saturday Dec. 16 from 10 am to noon.
Click here to email your order

Interested in Joining the Garden?
Community Garden
Serving DuPont, Pierce County and beyond.
Members & Food Banks
Eat Well - Be Well
For Families and Friends.
Fresh Produce
Supporting our neighbors with food security.
Best Community Garden
Close Relationships & Communication.
52 Families
Pierce & Thurston Food Banks